Technology has permeated every aspect of our lives, from the way we communicate to the way we shop. Marketing has become an art that's primarily digital. No matter what you're selling, and to whom, technology can improve the quality of your marketing output and, ultimately, help you generate more leads. In this post, we're going to examine the current state of seven digital marketing technologies, and how you can use them to raise your game.
Social media

Paid media

SEO

Email

Reporting

Training

Finding contacts
You already use all of these technologies, right? Well, let us blow your mind.
Social media
Social media can be used to build your brand identity, to reach out to existing customers and find new audiences. It can be used for thought leadership, to enhance SEO rankings and as a direct channel for people to interact with your brand. Most organisations already know this, but they invest hours in social media management without having a good idea of how to get return on investment.
The key to using social media is knowing what you're using it for. Are you looking to create brand awareness? If so, the goal needs to inform the way you use social media - you need to target your audience, create relevant content and maintain a strong brand.
If you're looking for greater visibility over your social channels, detailed insights about what does or doesn't work or greater control over publishing posts through automation and scheduling, these tools can transform what's possible with social media. If you want to produce quality posts that engage and grow your social following across multiple channels, then these tools are exactly what you need.
Hootsuite
Hootsuite is one of the most popular tools for enhancing your social media output; supporting over 250 integrations and allowing users to update multiple networks in one step. It's also capable of analysing over 300 metrics, so you can create a dashboard that perfectly tracks your business's goals. Hootsuite is the perfect first tool to get started when you're investing in your social media management.
Sprout Social
Sprout Social is a social media scheduling, monitoring and reporting platform that offers a customer relationship manager (CRM) feature. This enables you to create profiles of your customers, leading to stronger relationships. When it comes to social media followers, it's about quality over quantity: having many followers that don't interact with your channel is less valuable than a few followers that do.
Revive Old Post
Revive Old Post is an excellent tool to get maximum impact from your content. It helps you schedule new and old content that can be automatically posted in regular intervals that targets your audience. Many businesses make the mistake of never reposting their content, but it's essential to reshare content in order to improve its performance. This tool will help you create a schedule that works for you.
Loomly
Loomly isn't just a social media management tool – it's also an idea generation platform. It helps you create ideas that will resonate with your audience and tie into current trends. It suggests ideas related to your industry, any holidays or national days that are close, trending hashtags, and more. You can even integrate it with Zapier so that your content generation and publication processes are entirely streamlined.
Having a social media channel is an excellent way of reaching new audiences and creating a recognisable brand. These social media tools represent just a fraction of what's available on the market to help you make the most of your content and your social channels. Brands are expected to keep up with social media and be present on more channels as times go on – best get started sooner rather than later.
Paid media
Paid media is another vital digital marketing technology. It is an external marketing effort that involves a paid placement. This can include PPC advertising, branded content and display ads. It's a crucial part of any marketing strategy: by picking the right platform and targeting the right demographic, paid media can ensure your message reaches the right audience. However, to do this, you need the correct tools to track your campaigns. There are also great tools to help you develop a competitive strategy.
Using a third-party platform means you can extend visibility of your advert placements and find a larger audience. Your ROI needs to be optimal, which means a lot of planning and overseeing your long-term strategy. A management platform simplifies the process, allowing you to target your audience more effectively and reduce your overall spend.
SpyFu
There's a great tool called SpyFu, which enables you to carry out PPC competitor research. Whether it's a competitor's estimated monthly spend, the keywords that they are targeting or how well their ads are ranking, SpyFu gives you insights to help put together a highly competitive campaign strategy.
SEMrush
SEMrush is a popular paid media tool that offers an extensive keyword database. It makes building ads simple -using information about the ads posted by your competitors to ensure that they have the best chance of ROI. This chance for better audience targeting means your PPC campaigns will be more likely to succeed.
Leadpages
Leadpages is a tool that's suited for smaller businesses who are looking to engage with their core audience on social media channels. It acts as a funnel, sending your target audience to a specific landing page designed for them. When it comes to social media followers it's a case of quality over quantity – if you can engage with a small selection of more interested followers, your content is more likely to see conversions. It integrates with Google Ads and Facebook Ads, so you can capture leads effectively and quickly.
PPC is an investment that takes research and precision to get right. Before intelligent digital marketing tools, it was simply a case of buying ads in places you thought your audience would see them and hoping for success. But now, with the amount of research and segmentation that's possible, your business stands a much better chance of getting seen by the right people.
SEO
The third digital marketing technology is search engine optimisation (SEO). SEO is all about staying visible on search engine results pages. It feels like an arcane art sometimes because Google is forever changing its algorithms. Staying on top of these changes is hard enough but being able to adapt your SEO to these changes and stay ahead of competitors is the real challenge.
Moz
Moz is a great bet for continued SEO success. Not only does it offer useful educational resources to keep on top of SEO best practice, but the Moz all-in-one SEO toolset provides the full range of capabilities that you need. It tracks desktop and mobile keyword ranking, allowing users to easily keep tabs on any and all active keywords. This intelligent keyword analysis is supported by other features like link building and opportunities, site audits, search visibility score and page insights.
DeepCrawl
DeepCrawl is a unique website crawling tool. It provides SEO auditing that shows you a deep dive of your site issues to assess your overall site health. With features like backlink tracking, device breakdowns, ad hoc keyword research and more, DeepCrawl puts you in a great position to begin improving your SEO from. It's not a tool for keyword research or position monitoring, so it's perfect for SEO newbies.
In today's competitive online world, it's not enough just to use SEO practices and hope you rank above competitors. You need to use the right tools to find the right online niches to occupy. Long tail keywords, in particular, have become a beacon of hope for small businesses hoping to rank on results pages. Taking SEO seriously means doing your digital research and picking the perfect keywords.
Email
Our email inboxes are awash with communications competing for our attention. With so much competition, you need to optimise your emails so they stand out from the crowd. Great email marketing isn't just about open-rates but click-throughs and conversions. It's not just about getting people to open your emails; you need to offer actual value.
MailChimp
MailChimp is our tool of choice for sending out emails. It allows you to automate your email marketing with simple A/B testing, ready-to-use campaign templates and a simple email designer, so you can focus on the strategy to guarantee that your emails add value to the target audience. Their 'MailChimp reports' make it easy to track how successful your emails are at engaging with your audience, using advanced segmentation for precise targeting, distribution by time zone and comparative data reporting.
Sendinblue
Sendinblue is a digital marketing suite that includes an email marketing platform. It's easy to build emails with a drag and drop editor, and it offers personalisation, data list segmentation, automation and analytics. The free version is more than enough to keep a small business going, offering unlimited contacts and up to 300 emails a day, so this is an ideal way to get started with email campaigns.
Omnisend
Omnisend, as the name suggests, is an email marketing tools with omni-channel capacity. Within the automation workflow, you can add additional functions like push notifications and social media messages alongside your email campaigns. This is a wider approach to email marketing, incorporating it into targeted workflows that reach your audience using multiple personalised methods. It's ideal if your marketing resources are stretched, giving you a single tool with plenty of functionality.
Email marketing is one of the core tools for a marketing team for a reason; it's excellent at nurturing leads into customers. It also offers an opportunity to create a dialogue with your audience, sending them targeted updates and offers that'll pique your interest. It's a more one-on-one dynamic, and that means gauging the tone and the relationship between you and your audience correctly. The name of the game here is personalisation.
Reporting
40% of marketers said that demonstrating the ROI of their marketing activities is one of their greatest priorities. Marketing professionals are under pressure to prove that their campaigns are creating business value. These days, marketing is very much a numbers game. You need to be able to report back to the C-Suite with hard evidence that your campaigns are working – otherwise the budget for your next social campaign will dry up.
Google Data Studio
Most tools and platforms – from the social media platforms like Facebook and Twitter to the dedicated-marketing tools like Hootsuite – offer in-depth analytics. Google Data Studio collects real-time data from YouTube, Google Ads and Google Analytics to help you create dynamic, interactive dashboards. It's also compatible with multiple third-party data sources like Twitter, MailChimp and Salesforce. Google Data Studio helps users put together reports that are fully customisable, easy to filter and easy to share.
Google Analytics
However, for that added bit of magic to pull everything together, Google Analytics stands head and shoulders above the rest as a tool for measuring the bigger picture. In particular, they monitor traffic arriving on your website and how site users are behaving. Google's machine learning capabilities mean that Google Analytics can generate insights you just can't get anywhere else.
Cyfe
Cyfe is a popular tool for marketers because of its comprehensive reporting. It tracks just about everything within your business, from social media to analytics, and sales to KPIs. There are more than 250 metrics available to measure, and it's easy to integrate with other services like Google and Salesforce. The dashboard is fully configurable with pre-populated widgets that can be tailored to each marketer's need. Reporting is all-encompassing across your business, so this is a great tool for businesses without much room for new tools.
Instead of thinking of reporting as a culmination of your efforts, you need to think about it as the way you justify future investment in your marketing efforts. After all, management want to see results and return on investment. It is the best way to show that the tactics you're using are successful, and that you have ideas about how to improve in future. Digital reporting tools are your best friend when it comes to innovation in your marketing efforts.
Training
One digital marketing technology that is often forgotten is training. In a sector where change is almost always constant – SEO is a great example of this – it is essential to keep on top of the latest marketing platforms. In this respect, to succeed in marketing you need to be a life-long learner. You need to be open to change and ready to pick up new skills all the time.
LinkedIn Learning
There are several tools that can help you keep up with the latest digital marketing platforms and skills. LinkedIn Learning is a great example with a wide range of professional courses and tutorial videos. There are courses for every level from beginner to expert, and even over 16,000 entirely free courses. From the technical aspects of PPC to the writing skills you need for engaging content, there's a course here for everything.
Google Digital Garage
Google Digital Garage also offers a 'fundamentals of digital marketing' course that's extensive enough for any beginner. After all, a lot of digital marketing is about working with Google, so why not go directly to the source for more information? It's self-directed, with a range of courses coming in at over 40 hours, so it's a handy way to get started for free.
Keeping on top of your marketing education is essential – things are always going to change, and if you don't keep up then you'll get left behind. We like to think of training in marketing as a way of investing in the success of our future efforts.
Finding contacts
Have you ever been in that scenario where you need verify a lead's email address, or perhaps you didn't know the email address to begin with? If you work in sales or marketing, then the answer is almost certainly yes. Well, these tools aim to rectify that problem for good. 
Hunter
Hunter is a tool used here at Fifty Five and Five to help find the email addresses held within any domain. Our team does a lot of outreach every day, and sometimes it's important for a message to reach a particular person within a business. Enter: Hunter. Simply type a domain into the search box, and Hunter will conveniently display all the email addresses it can find associated with that domain. Pretty handy if your job revolves around outreach and connecting with leads.
Seamless
Seamless is another useful tool which can help you find contacts and manage prospect information. It's similar to Hunter in that it can help you to find the email addresses of people you need to contact. Moreover, it also features a handy browser extension which integrates with services like LinkedIn, helping you find the right contact information without disrupting your workflow. Pretty neat, if you ask us.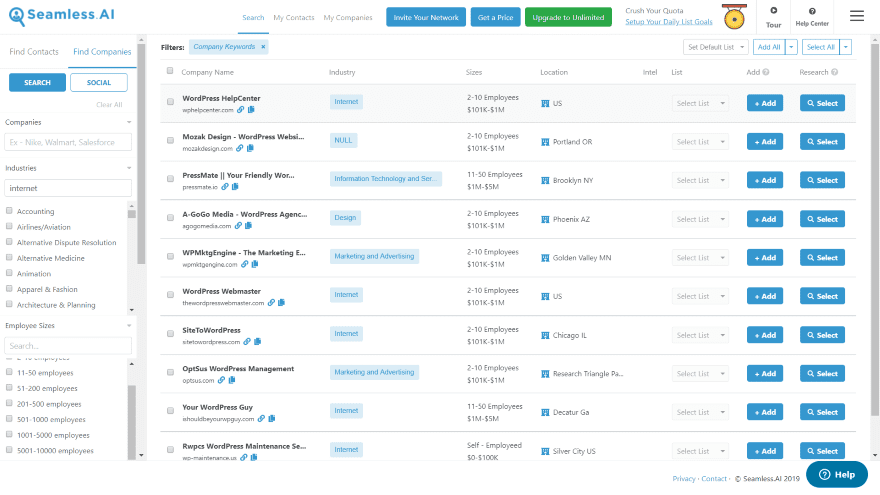 Our advice would be to keep at least one of these tools in your toolkit for when the time comes. You may use it every day, or maybe once every couple of months – but regardless, whenever you need it, it will save you your precious time.
Why is technology important?
There's now such a wide range of applications to help B2B marketers that it can be hard to decide what your team requires. A lack of resources, including staff, funding, and time remains a big obstacle to successful B2B lead generation. Therefore, more marketers will rely on digital tools to streamline their marketing efforts.
It's easy to become overwhelmed by the sheer variety in the market, but the key is remembering what your business is trying to accomplish. Create a strategy and set goals – this will make it easier to identify features in tools that will be most beneficial to you. Before researching tools, create a list of the most beneficial services your business needs.
We hope this guide will help you find the technology that your digital marketing team requires.
We can help you raise your game
At Fifty Five and Five, our expert marketing team uses a variety of digital marketing technologies to help them deliver the best results for our clients. To find out more about our team, what we do, and the technologies we use, get in touch with us today.
---